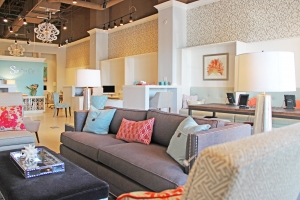 CHARLOTTE, NC, April 11, 2014 – Savvy + Co. Real Estate is excited to announce the opening of its second location in the Ballantyne Village Shopping Center at 14825 Ballantyne Village Way, #165, Charlotte, NC 28277.  The new storefront office jumps into the future with an open concept, high-tech environment in a stylish lounge setting where clients can relax with a cup of fresh-brewed coffee while negotiating a home sale or purchase.
Savvy + Co. partners Lexie Longstreet, Shonn Ross and Debe Maxwell chose the hot Ballantyne neighborhood for their second location because of its contemporary lifestyle and broad popularity. While the original Savvy office resides in a restored historic cottage in traditional Elizabeth, the Ballantyne location defines Charlotte's newest generation of homebuyers. A mecca of shopping, dining and recreation, the 28277 zip code is in the top five most searched zip codes in the United States.
Designed to match the casual, but fast-paced world of today's mobile real estate agent the new office does away with private offices in favor of open workstations, comfortable furniture and Wi-Fi. A conference room can be reserved for private meetings. "The office is designed to make clients feel more like they're in a trendy coffee shop or a hip lounge than a real estate office," says Longstreet, "The inviting environment will also encourage walk-in business."
A first for the Charlotte area is the office's cutting edge window-mounted, touch-screen monitor that is accessible from the outside. People strolling to dinner or catching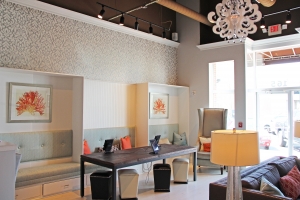 a movie at the Ballantyne Village Shopping Center can stop by anytime day or night and interact with the window monitor to learn about Savvy + Co. and browse listings.
Dorothy "Dot" Munson will serve as Manager and Broker in Charge of the new Ballantyne Office. A veteran Charlotte real estate broker who has served as president of CRRA, CMLS & Housing Opportunity Foundation, Dot is excited to be working in Ballantyne. "It's a neighborhood with an extremely attractive lifestyle," she notes. "Our agents and clients both will love the environment. It's conducive to working on the go and breaking for a minute during a busy day. It's like doing business in the local coffee shop except with more resources."
Savvy + Co. invites the public to celebrate the new location with an open house on Thursday, May 1, 2014 from 4 to 7pm. Hors d'oeuvres and beverages will be served while the offices' new high tech features are demonstrated. If you can't make the celebration, stop by after hours and tap the window monitor to learn more about Savvy + Company, read the HipHoods blog and browse listings.
About Savvy + Co. Real Estate
Savvy + Co. was founded in 2007 by Lexie Longstreet and Shonn Ross who wanted to do real estate their way: Progressive, friendly and service oriented. Debe Maxwell became the third partner in 2009 rounding out the ownership team. Today Savvy is highly respected as Charlotte's most progressive boutique real estate agency.
Savvy + Co. Real Estate
1920 E. 7th Street
Charlotte, NC 28204
tel: (704) 330-8326
fax: (704) 347-4530
getsavvy@savvyandcompany.com
14825 Ballantyne Village Way
Suite 165
Charlotte, NC 28277
tel: (704) 438-9800
fax: (704) 353-7026
getsavvy@savvyandcompany.com
Read more http://www.savvyandcompany.com/
Read more http://www.savvyandcompany.com/savvy-co-launch-new-open-concept-real-estate-office-ballantyne/