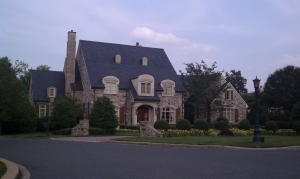 Charlotte, NC has many hip hoods and distinct communities, but only a select few get to be classified as luxurious. Over the last few years Charlotte has attracted a number of boutique architects and developers, who design just one or two luxury communities, which are immediately classified as luxuious simply by virtue of their style, high-end appointments and location.
Many of these are scattered throughout Charlotte, some of which command fairly high prices.  In 2011, however, we are seeing quite a movement to affordable luxury homes in Charlotte.  Despite the fact that Charlotte was, and still remains, one of the most stable real estate markets in the nation, we have seen a significant dip in all home values as well as a significant increase in supply, contributing to making luxury homes in Charlotte more affordable. Finding a more affordable million dollar property in Charlotte NC with all of the bells and whistles, is not as difficult as it once was!
Charlotte luxury homes abound in the area and there are numerous luxury communities in Charlotte where a million dollars can buy you the home of your dreams including:
Ballantyne Country Club
Barclay Downs
Carmel Park
Challis Farm
Courance
Dilworth
Dovewood
Eastover
Foxcroft
Heydon Hall
Morrocroft Estates
Myers Park
Old Foxcroft
Pellyn Wood
Pharr Acres
Piper Glen
Quail Hollow
Rutledge Grove
Seven Eagles
Sharon Hills
Stonegate
The Sanctuary
Town & Country
Wheaton Grove
A drastic reduction in mortgage rates, as well as home price reductions/values in the area are giving way to Charlotte luxury home buyers' dreams.  If you're seeking to make a sound investment in luxury properties in the Charlotte NC area, now is truly the best time in decades to make that investment.
What will a million dollars buy you in Charlotte NC? Let us help you find your million dollar luxury home in Charlotte NC – we are Charlotte luxury home specialists.